We are Delhi's leading rental desktop rental company
We provide Desktop on Rent in Delhi Noida and Gurgaon both short and long term hire. If you need a single Desktop to hire to cover IT equipment shortfalls or you want to hire a large number of Desktop on Rent in Gurgaon. If you are expanding your team or conducting a training session or a corporate event, let our experts plan the rental of IT equipment for your organization. Rent a desktop computer from us and take advantage of our convenient & affordable payment options. You choose how long or little you want to rent for - it's so simple! Book your new Desktop on Rent in Gurgaon online today and get FREE installation.

We provide Branded Desktop & Tailor-made Computers on rentals Basis to individual, business, corporate, schools, government etc

Just call us for Best Rental Solutions & Price: +919811623325
Desktop on Rent (assembled)
Configuration:
Processor-Intel Core i3 6 th Gen
RAM- 4 GB
HDD- 500 GB
Include- Key Board, Optical Mouse, 16 Inch TFT
Desktop on Rent (Branded HP, Dell, Lenovo)
Configuration:
Processor-Intel Core i5
RAM- 8 GB
HDD- 1TB
Include- Key Board, Optical Mouse, 16 Inch TFT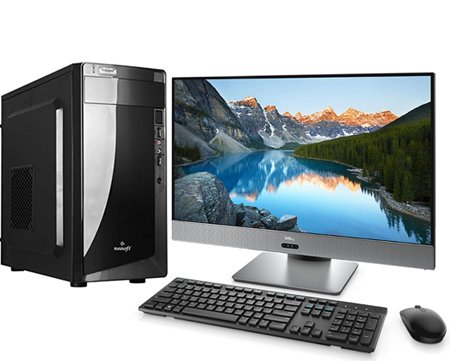 Desktop on Rent (assembled)
Configuration:
Processor-Intel Core i7
RAM- 16 GB
HDD- 2TB
Include- Key Board, Optical Mouse, 27 Inch TFT
Software On Rent
We have started another unique service of providing original software on rent i.e. Operating System, Application Software, MS - Office etc. with Desktop on Rental Basis



RAM : Desktop on rent provide Desktop rentals with a variety of memory capacities. Desktop on rent gives you the flexiblity to upgrade your RAM upto 32 GB to match your needs.

HDD :  For all your valuable data higher capacity HDD options available with Desktop on rent. You can upgrade your hard disk upto 1 TB to store your crucial data without any problems.

Graphics Card :  Desktop With 2/4 GB Dedicated Graphics Cards. 

Quick Delivery :  You need not struggle for the on-time delivery of the product and we will provide you with a quick delivery that is within a few hours of booking your Desktop on rent. If you want to rent a Desktop in Delhi on an urgent basis, you just need to call us and get your Desktop booked. We will deliver your updated Desktop within a few hours of booking it.

Affordable Rent :  We are the company that is providing Desktop on affordable rents. If you are interested in a Desktop on rent in Delhi on affordable rent, contact us and let us know about your requirement. 

We will not only provide you a customized Desktop on an affordable rent but also deliver it really quick so that you can start again with your work without wasting anytime while waiting. So, if you need a Desktop on rent in Delhi, you can contact us any time and get delivered your Desktop from us.