Projector Screen on rent in Delhi, Noida and Gurgaon is available in different sizes
The common size of projector screens are - 6x4 feet and 8x6 feet. We also provide rear projection screen on rent and masking screen on rent too. These portable tripod Projection Screens are available in 1800mm (6 foot) & 2400mm (8 foot) versions.

With our Projection Screens you do not have to worry about the quality of projection. You can place our Projector screens anywhere be it in-door or out-door.
Tripod Screen on rent in Delhi, Noida & Gurgaon
Tripod screen offers great portability and can be installed on any flat surface. They are available in commonly in 2 sizes i.e. 6 feetx4 feet and 8 feet x 6 feet. We can make available other sizes on order
Wall mount Screen on rent in Delhi, Noida & Gurgaon
We offer wall mount screen on rent if the rental period is greater than 7 days. These screen looks impressive and gives a vivid display. So, if you are planning to rent a projector screen on rent in Delhi and greater than 1 week you can club this screen in the offer.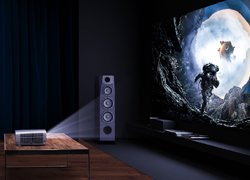 Rear Projection Screen on rent in Delhi, Noida & Gurgaon
With the help of Rear Projection Screen you can ensure an immersive experience for your audience throughout your corporate event. These types of projection hide un-necessary cables and projector so that audience can focus on the screen only. This is why it is called Masking projection screen. They are an essentialness to engage the attention of the customers